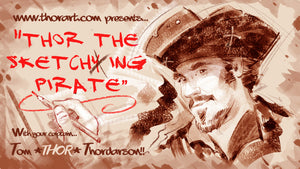 FREE DRAWING LESSON with THOR! "The Sketching Pirate"
ALOHA!!   I am doing a FUN series of Drawing lessons...on Facebook LIVE, and will post some of them here too!!  I call it, "THOR the Sketching Pirate" based on several friends thinking this title suits me WELL!  LOL!
   These are free...I basically LOVE teaching people the MAGIC of being able to draw your ideas and thoughts!  These lessons will get more and more "organized"...but think of them as casual and fun right now...kinna like we are hanging out together just having fun!!
PLEASE give me feedback and requests!!  If I get enough interest I will keep these up and REALLY get these rolling for yah!! SoooooLETS DRAW!!!  ~~THOR
---
12 comments